Welcome to week #12 of
Retweet me Tuesday
! This hop is hosted by
Cute-Ecakes
, and
Beauty Brite
, to help boost your Klout, and make new Tweeps!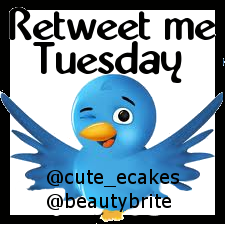 Not checking your Klout Score??
Klout is soon to be one of the BIG indicators of your status in the cyber-world. Check out
THIS
article, or check out YOUR Klout
HERE
!!

This is not your usual blog hop!
*Please Read*

Rules
Link up to your Twitter profile
Retweet something from the person above you
Try to choose a recent tweet that the owner would want redistributed!
#RTmeTUES is always much appreciated!
Retweet your hosts :)
@Cute_Ecakes
and
@beautybrite
That's it!

Want to work on your topics of influence?
Include #RTmeTues in a tweet that you would like reacted to so participants know what to RT!!
Clicks on links, RT's and replies will help boost your topics!
FIND OUT ABOUT OUR KEYWORD TWIT CHAT HERE!