Welcome to week #16 of
Retweet me Tuesday
! This hop is hosted by
Cute-Ecakes
, and
Beauty Brite
, to help boost your Klout, and make new Tweeps!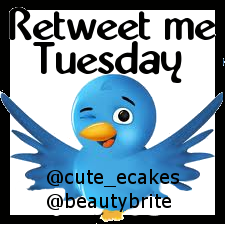 Not checking your Klout Score??
Klout is soon to be one of the BIG indicators of your status in the cyber-world. Check out
THIS
article, or check out YOUR Klout
HERE
!!
Klout scoring has CHANGED! You may have noticed your score drop significantly recently! Gaining NEW influential interaction is one way to give your score a push.
This is going to be a LOT easier now! Due to the "tradition" of blog hops, I naturally put up a linky when I started RTmeTues, but it turns out that there are MUCH easier ways to help eachother out!

This widget is displaying tweets with the hashtag #RTmeTues.
Simply add #RTmeTues to any tweets you want retweeted, and click RT on as many as you like! No hopping, no tabs open!
Latest tweet:

I gave @texaswitchtwin +K about Deals on @klout http://t.co/Yge4CvMh

Get this email app!